Wednesday, November 15, 2006
Sex, drugs and singing must make you stupid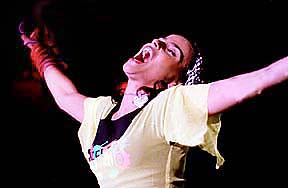 Nelly Furtada screams her brains out, literally.
One more stupid uninformed singer throws her uninformed
support
behind the seal hunt protest. It's gotta make you wonder if all of that screaming, sex drugs and rock and roll doesn't make you stupid and immoral seeing as she is also bisexual. Or is it just the publicity and fund raising they are after like the Animal Rights Activists.
Nelly Furtado has sensationally claimed America is in danger of becoming a fascist state.

The Canadian star claims she hated her time living in the US because of the country's right-wing policies.

Nelly told Britain's Daily Mirror newspaper: "I didn't really like the American lifestyle.

It's leaning to the fascist side."

"Nelly Furtado has revealed she is attracted to women." Lesbian
Subscribe to Posts [Atom]